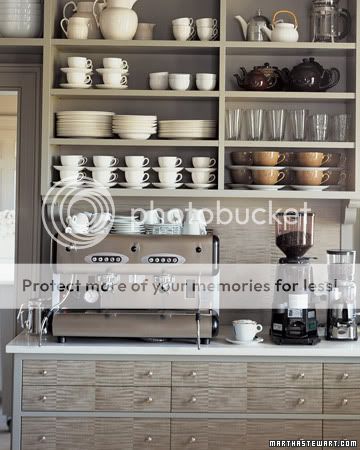 Source: marthastewart.com
JOY: Look at what I found.
JANET: Oh, wow. Is this your version of heaven, my little coffeehound?
JOY: Nope. It's my version of porn!
JANET: Hm, I can definitely see how all this coffee paraphernalia would get you all worked up. Especially that HUGE cappuccino machine with all those delightful attachments.
JOY: Please. What girl doesn't love a huge machine? Especially when it spurts out coffee??
JANET: Point taken.
JOY: I think what may excite me almost as much as the prospect of all that caffeine is the functionality of all that fabulous open shelving.
JANET: You know how I feel about open shelving. Dust on my dishes does not appeal to me. Neither does dusting said dishes every five minutes.
JOY: Easy, Howard Hughes.
JANET: Whose kitchen is it, by the way?
JOY: Seriously, do you have to ask? Who else would have her coffee corner organized in such minute and orderly detail??
JANET: Ooh. It's Martha's. Okay. She can afford to have someone stand there all day with swiffer in hand.
JOY: She's Martha. Why wouldn't she?
JANET: Tsk, tsk, Martha! Those cappuccino cups on top of the machine are a little... askew.
JOY: Uh-oh... Somebody's gonna get fired!
JANET: Yeah. And we're probably gonna get sued for saying that.
JOY/JANET: Just kidding, Martha. We love (
read:fear
) you!